I was down in Central California over this long weekend. Weather was nice, could have been some warmer (that's the common complain this year, isn't it?), but had a very good time.
Pacific weather still tricks my expectations, and finding a cold, foggy beach is still somewhat of a surprise to me, but then I remember: oh yeah, it's the Pacific California…
That would describe what happened to me on Saturday afternoon. Sunday morning – instead – was more in tone with the celebration, with a bright sun, clear sky, and warm temperatures.
An improvised stop for a nice coffee at the Top Dog Coffee Bar (which I highly recommend), provided the tip about the afternoon events for the 4th July celebration.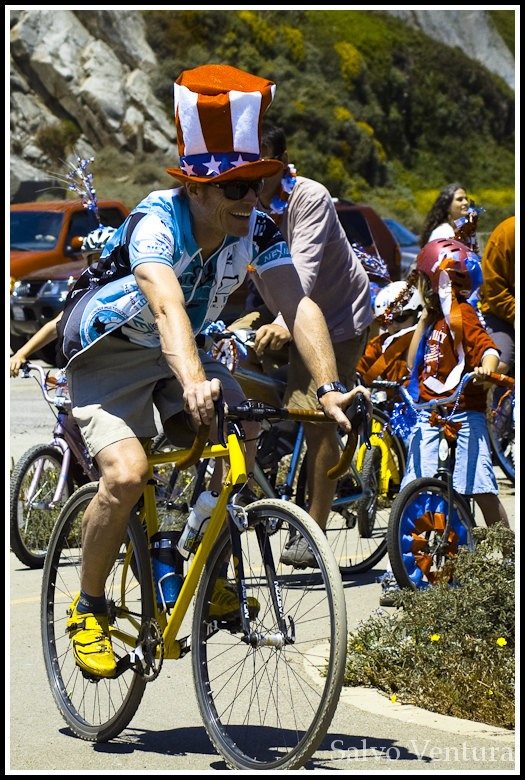 Heading down to the Morro rock, I still had time to take some pictures of the bay's calm waters, kayakers and some sea otters. The Morro was standing out monumentally in the blue sky, surrounded by flocks of seagulls flying in and out of their nests.
At the base I met Bob, a gentleman sitting there, with his powerful binocular pointed right up to the mountain. We had a pleasant chat, during which I learned the existance of two couple of peregrine falcons living on the rock, and lots of other information that Bob offered, including the translation of 'peregrine falcon' in oh-so-many languages and some nice shots of these wonderful birds. If you go to the Morro, I am pretty sure you can find him: he's been following the peregrines since 1969.
Shortly after people were already gathered and ready to go for the bicycle parade. There were families, athletes, young couples, kids, all with their wheels and colors. Throw music in the mix, and you get a wonderful afternoon event.