About a month ago, I was traveling to Italy. This time, I made plans to explore a bit more than my immediate surroundings: a tourist in my country.
Everything worked out perfectly. Besides the chance to spend time in my home town, with family and friends, I ventured in places both old and new to me.
I will split the whole trip in several posts, starting from my first destination, Sicily, and the various places that I visited there. In this first post, I will tell you about my visits to Ragusa Ibla, and Ortigia.
Ragusa Ibla
The older part of the city of Ragusa, Ragusa Ibla breathes an atmosphere that carries its visitors through an aristocratic past.
The easiest way to reach Ragusa Ibla is likely by car: once there, you can leave your car in a convenient parking lot, and then walk through town.
The hot sun of late spring, high in the morning, casts playful shadows on the facade of the many baroque buildings and churches. The heat invites for a slower, mindful pace, and prompts a visit to one of the many bars for either a granita or gelato.
Ortigia
Ortigia (Ortygia) is a small island which constitutes the Old Town of Siracusa (Syracuse). Siracusa deserves a visit on itself, given its extraordinary rich history due to its Greek origins, and central role in history over the centuries. I didn't have time this time around for a proper visit to the many sites offered by Siracusa, so I concentrated on Ortigia.
Ortigia is a small fraction of Siracusa, yet it shares its rich baroque architecture and greek heritage. The Duomo in Piazza Minerva, is a wonderful sample of sicilian baroque, with a twist: it was built on top of the pre-existing Greek temple. The columns of the temple are still visible through the side walls of the church. The Duomo is also listed as a UNESCO World Heritage Site.
Also in Piazza Duomo, but to the southern end (to the right, facing the Duomo), the Church of Santa Lucia Alla Badia. That church owns and displays the Caravaggio painting Burial of St. Lucy. St. Lucy (Santa Lucia) is one of the patrons of Siracusa. You won't be able to take any pictures: an ominous voice will intimate a supernatural "no photo" :-) But it's very worth the visit.
As you walk around the narrow streets, it's hard to take in every single detail and decoration, each with a history on its own. There are spaces, though, that demand your full attention, like Piazza Archimede, with the Artemide Fountain at its center.
Another site not to miss, is the Fonte di Aretusa, with papyrus plants, and the legend of the waterer. And at the south most point, you can visit the Maniace Castle, which I could not visit unfortunately due to daily closure, so check opening hours before you go.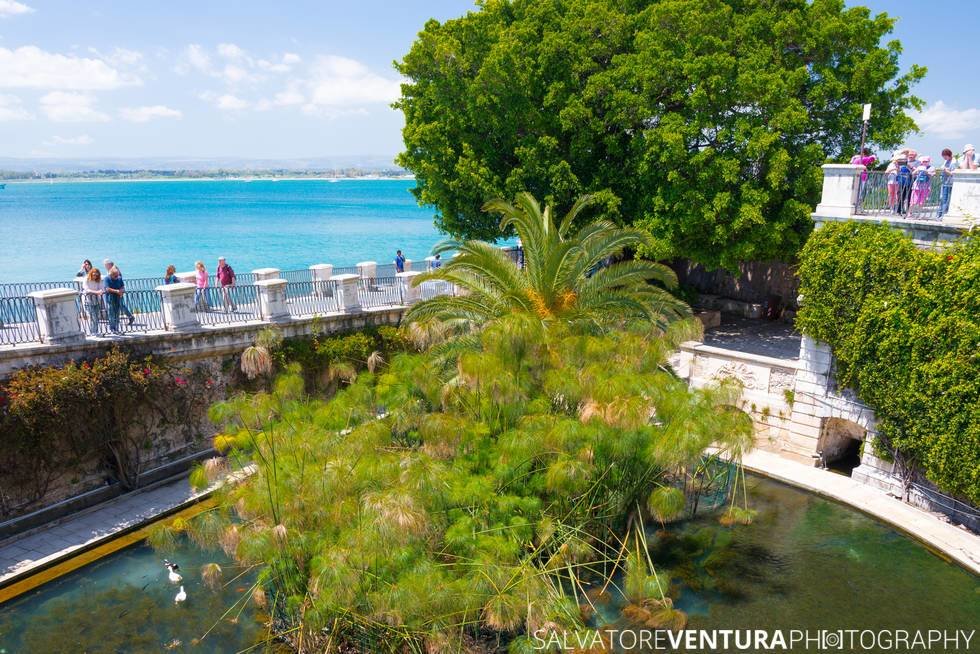 I visited these two cities in two separate day-trips. You can probably try and combine the two in one single day. While it feels a bit rushed to me, it can be done. Most importantly, I hope you can enjoy visiting Sicily as much as I did, and keep discovering its rich history and culture.
If you liked this post, please give it a Like and share it with friends, it really helps! Thank you for reading and come back soon!
Full gallery below.
Save
Save
Save
Save
Save
Save
Save
Save
Save
Save
Save
Save
Save
Save
Save
Save
Save
Save
Save
Save
Save
Save
Save
Save
Save
Save
Save
Save
Save
Save