Last weekend I set to finally check out the top of Mount Tamalpais (Mt Tam), in Marin County. Besides reaching the top, the park has many trails that can make for a very beautiful day. Let's get to the different parts of this day trip to Mount Tamalpais State Park.
The destination
Mount Tamalpais State Park is located in Marin County, just north of the Golden Gate Bridge. Its name comes from the towering Mount Tamalpais, 2,571-foot tall, which yields astonishing views of the surrounding areas, especially on very clear days. Reaching the park is fairly easy, but finding parking can be a little challenging, especially on weekends. So, you may have to park on the roadsides, adding extra distance on foot to your trail heads.
First stop: Mt Tam
My first stop was at the Mount Tam East Peak parking lot. There are several spots along the way, where you could stop for a hike or just a picture or two. If you can't stop your car comfortably, carry on, as there are several better suited areas along the way. From the East Peak parking lot, a short hike will take you to the fire lookout (closed) from which you can take in as much of the surroundings as you can get.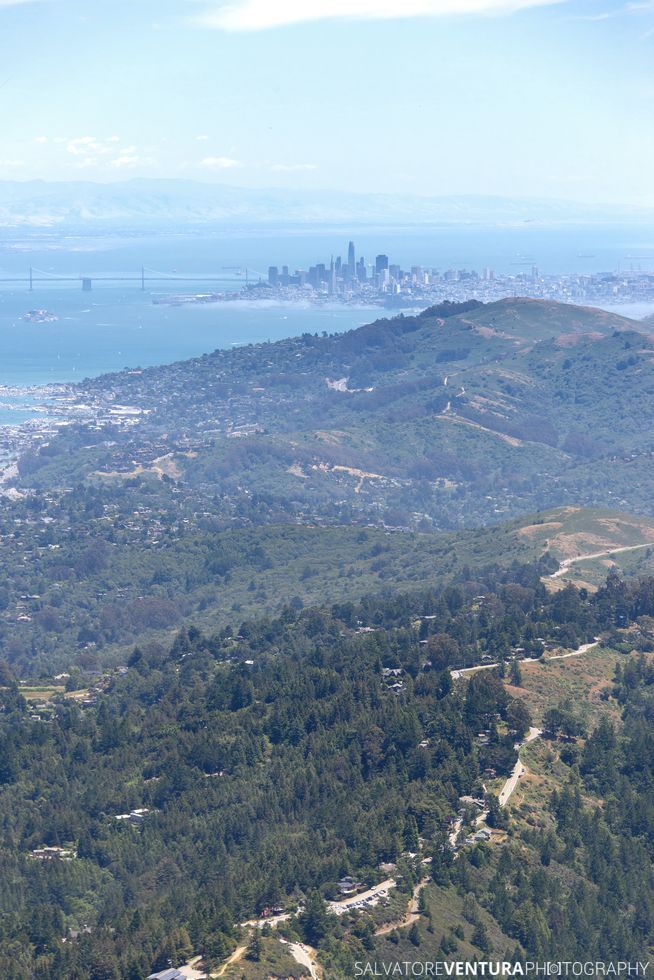 The view is spectacular, and includes turkey vultures hovering around in circles, allowing you to take great close up photographs.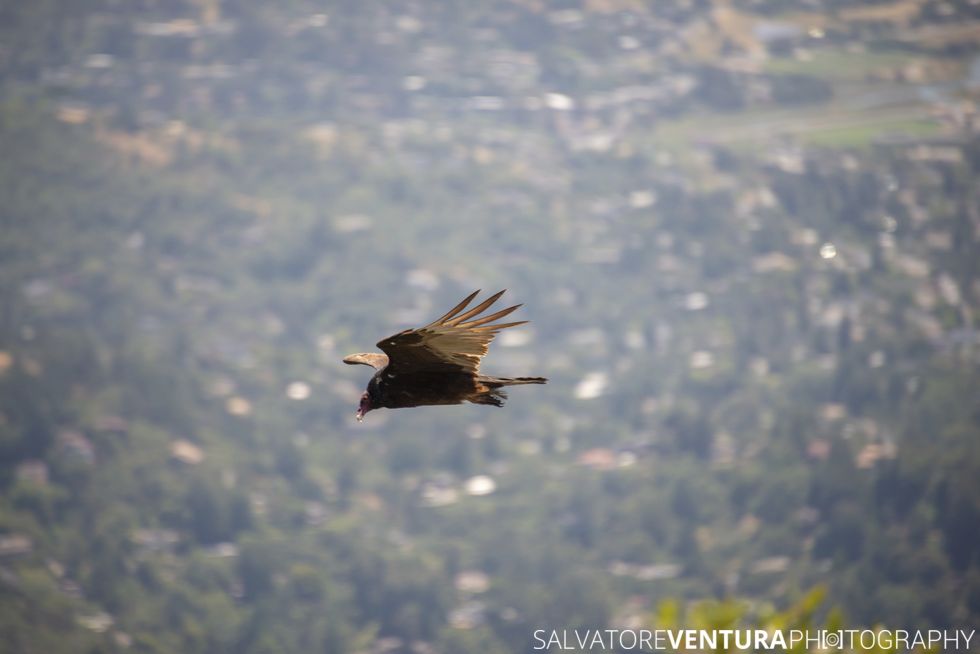 Once you are done, come back down to the parking lot level and go visit the gravity car museum. It's a lesser known, very fascinating, piece of history.
Second stop: Pantoll Campgrounds

As you drive back from the East Peak on the Panoramic Highway, you will eventually reach a 4 way crossing, at one side of which is the Pantoll Campground. Try find a parking spot in that lot, or otherwise resort to the roadside. The Pantoll Campground gives access to several trails, including the scenic Dipsea Trail and the beautiful Steep Ravine Trail. These two connect around 1.5 miles down, effectively making it a loop.
During this trip, I went down on the Steep Ravine Trail, and up on the Dipsea Trail. If you are confused by the signs, check out a map. Another way to tell them apart at trail head, is the warning on the Steep Ravine Trail about a 10 feet ladder, found just about half-way down.
Steep Ravine Trail
The path is steep, well marked, but it can get slippery in some points due to water and various roots. The lush vegetation keeps the temperature and humidity at a very comfortable level, even during the warmer hours of the day. There are plenty of bridges to cross along the path, and numerous water falls and streams worthy of a stop for a picture or two. If you have time and energy, a tripod and neutral density filters can be very rewarding. The ladder is not too hard to climb down (or even up, if you come the other way), although some caution is always advised. At some point, the Dipsea Trail will connect over a bridge to the left.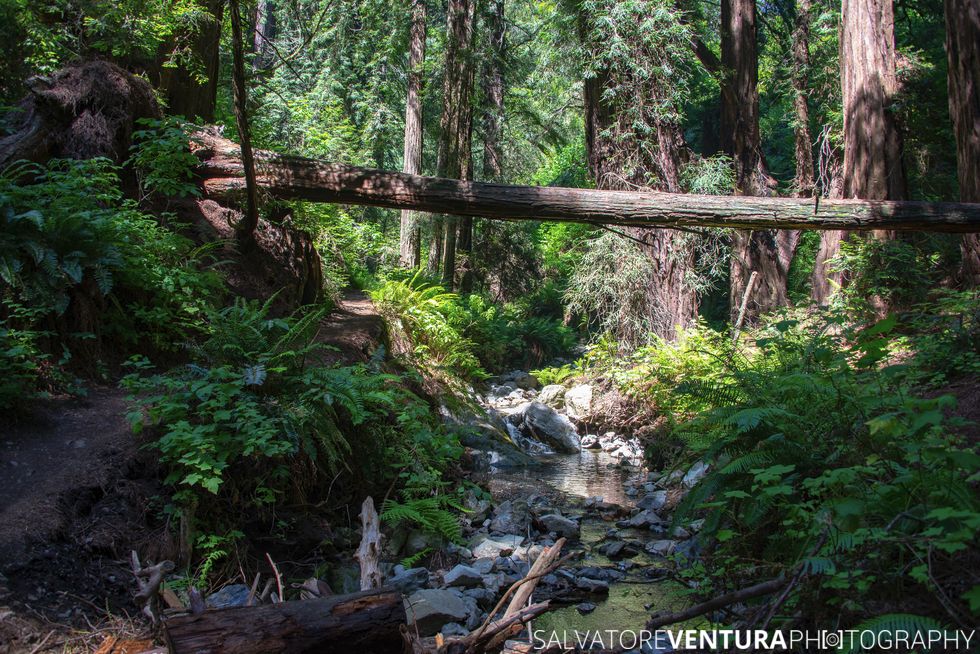 Dipsea Trail
This part of the trail goes uphill, and it starts with what feels like an endless sequence of steps. Admittedly, I am not in the best of shapes, so I had to stop several times to catch some breath. There isn't much of a view until you reach the top. At that point, the vegetation opens up, and it also gets warmer. Very soon after, you will start enjoying views of the Ocean and then San Francisco.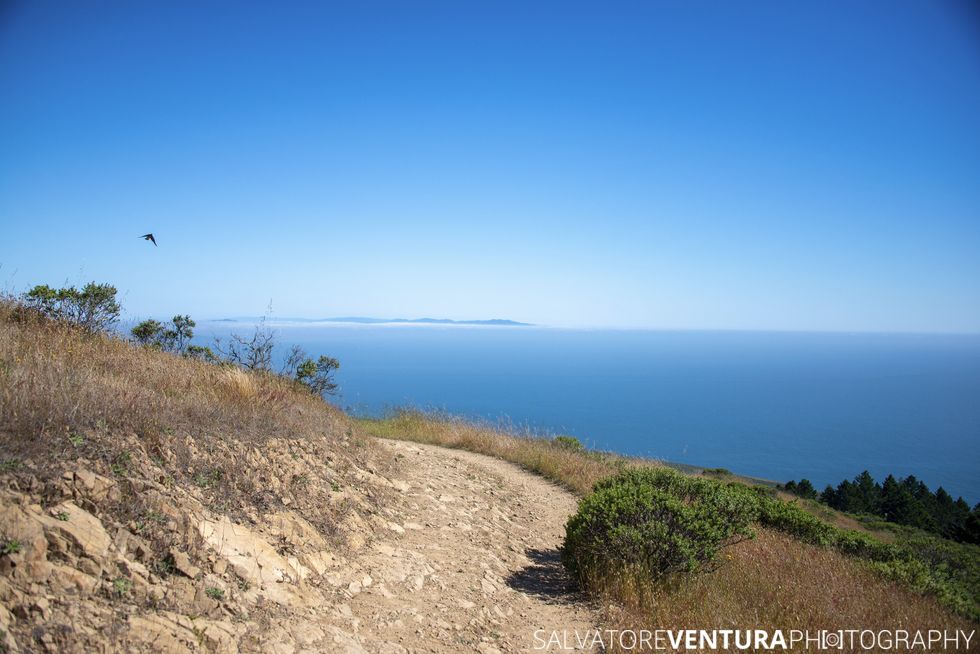 Recommendations
I absolutely recommend wearing sturdy hiking shoes for these trails. The trail on Mt Tam to the fire lookout starts nicely, but becomes a narrow trail covered with sharp rocks. Steep Ravine and Dipsea Trail can be slippery, and hard on your feet overall, especially on the steps. Bring water, some snacks, and definitely sun protection, very important once in the open. For the fun part, bring a camera, and if you fancy, a tripod and neutral density filters, for your long exposures. A circular polarizer might be useful as well. Drones are forbidden, so you can leave those behind.
Conclusions
Mount Tamalpais State Park offers great areas for hiking, even if you are visiting for just one day. The views from the East Peak and fire lookout are amazing. And the trails from the Pantoll Campground are very accessible and relaxing, if you pace them right. With good planning you can decide whether to take a loop, like I did, or go straight down towards the ocean. For more information you can checkout the official Mount Tamalpais State Park website, and also the Friends of Mt Tam website.
---
If you liked this article, hit the like button and share it with your friends! Have you joined our mailing list yet? Subscribe!!!