Dubrovnik is rightfully named the Pearl of the Adriatic, for its gorgeous Old Town that is also listed as a UNESCO World Heritage Site. Although its ancient name was (also) Ragusa, it doesn't have any direct connection to Ragusa Ibla. Dubrovnik has also gained popularity due to the successful TV show Game of Thrones, which is filmed mostly here. If you need ideas for a Mediterranean summer destination, you should absolutely look at what Dubrovnik has to offer, as there is plenty.
My visit to Dubrovnik goes back to last year, when a business trip brought me to this beautiful city. The weather in July is absolutely gorgeous and hot, so be prepared for summer temperatures and exposure. Bring water, and don't forget your hat and sunblock in your strolls. This especially true if you are going to take (and you should!) the City Walls self guided tour. On this tour you will be walking over the 2Km long defensive walls of the city. There are great views of both the Adriatic sea, and the town's characteristic orange roofs.
The Old Town is closed to traffic, so you can freely roam it's Stradun and the ancillary narrower streets, and get lost in more beauty. Now, you don't really get lost in Dubrovnik: it is easy to go around in the Old Town, and distances are not extreme. Should you take a wrong turn, it will take you minutes to make amends. And in the process you might actually find something new, like the views from Cafe Buza (I don't think you have to order at the cafe, there's some public area as well).
One of the best spots to view Dubrovnik is from the top of the Srd Hill. There is a cable car that takes you there, where besides enjoying the views you can also visit the Imperial Fortress or have a meal at the restaurant. Besides the full Old Town, you can get a very clear view of Lokrum Island.
If you do get up there, time your descent well, and try to wait until sunset, as some are quite stunning.
But Dubrovnik is also a city of the sea, so there is plenty of water activities to keep you active and refreshed if you like. Besides swimming in the surrounding waters, there's kayak, snorkeling, boat rides, and more.
The Stradun, the main street, is all made in polished limestone. It is such a beautiful sight at any hour of the day. At night it becomes the center where everybody gathers after dinner for an extra drink, walk or ice cream.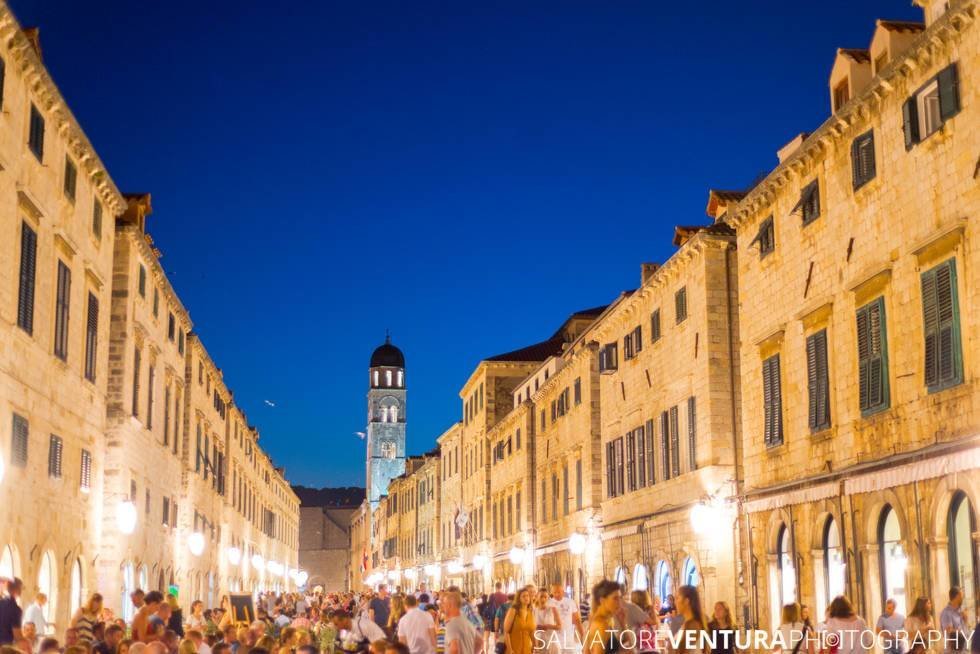 As I revisit my memories of Dubrovnik, I very fondly recall the time spent there. Even if just for few days, the breadth of activities and views, relaxed pace and welcoming people, makes it for a great summer break.
Few important notes on visiting. If you can, try to find accommodation in the Old Town, as it will make everything easier. If you stay in the Old Town, be aware of the stiff and long stairs that you might have to haul your luggage up to. Nothing herculean, but worthy of mention. Avoid staying if there's any large cruise ship scheduled to arrive, as it will flood the small downtown with hordes of fast paced tours from the ship, diminishing your experience.
If you liked this post, please give it a Like and Share it with friends, it really helps! Leave questions and comments below. Thank you for reading and come back soon!
Full gallery below.
Save
Save
Save
Save
Save