This was surely a great beginning into 2018 for the astrophotography community: a super blue blood moon eclipse. This particular combination seems to happen only every 150 years.
I was not sure I would go until this morning, when at 3am the alarm clock went off, and I felt the excitement building up and rushing me into getting dressed and ready to go. But coffee first.
Location
After consulting with my notes, I had decided to venture to Sutro Baths, in San Francisco. I had thought first to go to Treasure Island, hoping to include the Golden Gate in the pictures, but limited by my longest lens (300mm) I decided to try some other place. Planning with the mapping tool, Sutro Baths seemed very adequate.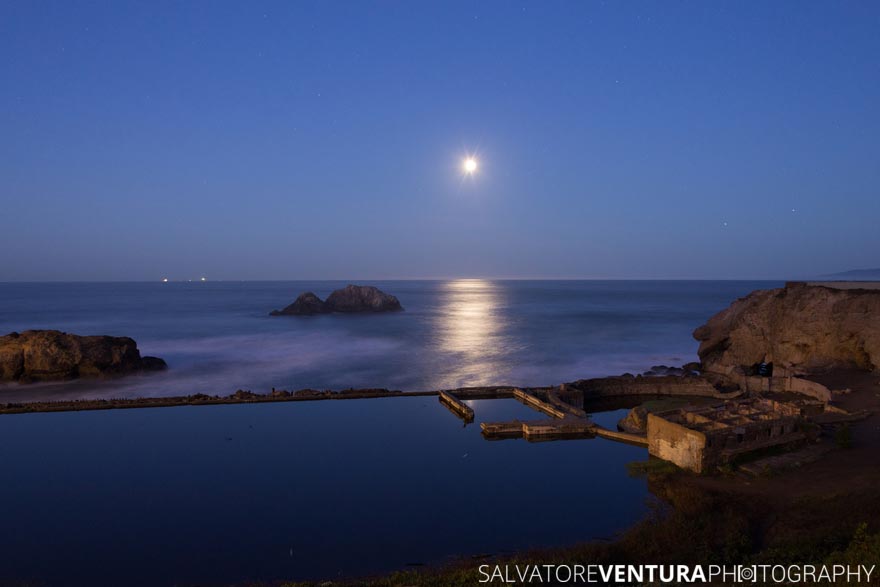 Half way through to the City, two the concerns started forming in my mind: the tide and the fog, both of which I had not checked. Always check for weather, if you are one hour of driving distance away.
Luckily enough, there was no fog, the sky was clear, and the moon very visible. The tide seemed high, but I didn't really fancy to go down to sea level, so that wasn't a problem. It was cold. Very cold. But I had prepared for that.
Challenges
I am not very experienced in night photography, and while the Moon in itself is very bright, an eclipse poses additional challenges. The first one is getting the right exposure, while avoiding motion blur. To make the camera as stationary as possible, I used a tripod, and a remote shutter (I prefer a wired one, instead of the remote version: one less battery to worry about). Then set my camera to use Mirror Lockup, which reduces the vibrations. Also, after few test shots to figure out the right settings, I switched the camera to manual mode, dialed in all the settings, disabled autofocus and manually focused to infinity. This way, all the pictures would have the same exposure, and not suffer from any vibration. Well, at least most of the times. I always shoot in RAW.
The composition has its own challenges. For some miscalculation, I was expecting the Moon to be much lower on the horizon, so I was hoping to get it right by one of those big rocks in the water. Unfortunately that was not going to happen until much later. At that point I could not find a path that would lead me to a better vantage point without the risk of ending up in mud. I was lucky though to have a ship nicely timing its entry in the scene though.
Another challenge with composition comes with the decision wide vs. narrow perspective. In the first case you can get quite a lot of elements in the scene, but the Moon will look like a tiny bright dot. Or even like the sun. In the latter, the Moon can be sharply defined but is stripped of any context. In both cases you can get creative and use timed sequences that you can compose in post-production, and possibly overlap to a long exposure of just the background scene.
The execution of the multiple exposures was mostly a repetitive task that could have been done automatically. But I didn't have the right trigger, and while the camera can do time-lapse/multi-exposures automatically, it cannot do them with the Mirror Lockup function enabled. Such a pity. So there I was, with my phone for timing and the trigger being set each minute. This went on for an hour.
Gear
You go to a photo shoot with what you have. What I used are my Nikon D600 DSLR: a bit dated, but still plenty for me. On that, I used the Nikon AF-S FX NIKKOR 28-300mm. I can see some of you already cringe, but remember what I said: you go to a photo shoot with what you have. Or, with what you can rent. Remember that renting is often times the best way to use a specific expensive piece of equipment that you may not use that often. I already mentioned the wired remote. Not strictly photographic equipment: headlamp, stool (to sit down), gloves, large plastic bag (so you have a clean place to rest your camera bag on), batteries, snacks and water. Coffee might have been nice too.
Conclusion
As always, the most important part is to have fun. Although a very early wake, I had a great time and I am fairly satisfied with the pictures I got. I am sure there's room for improvement, and I have learned a couple of things today both about organization (or lack thereof) and better ways to plan and use my gear.
If you liked this article, consider sharing it with your friends and use the referral links included when proceeding to a purchase. It helps me a lot, and does not cost you a dime.
Nikon D600 DSLR, Buy on Amazon
Nikon AF-S FX NIKKOR 28-300mm, Buy on Amazon
AmazonBasics Wireless Remote Control for Nikon Digital SLR Cameras, Buy on Amazon
Pixel Wired Remote Shutter Release Control compatible with NIKON MC-DC2 , Buy on Amazon
By using my links to buy/browse gear, you're supporting my photography and articles.